2017 was a helluva year for social media.
Facebook dominated Snapchat with Instagram
Facebook also faced much criticism for the alleged influence of its platform on the US elections
Twitter is dying a slow death and in an effort to cardio-shock some life into its stock price, doubled its iconic 140 character limit
AI became an integral part of how brands communicate with its customers
2018 promises more of the same fast-paced change in the battle for your attention.
As social media users are becoming more aware of advertising and advanced tech goes mainstream, it's only natural for marketers to look for ways to capitalize on emerging trends.
The question is…should they?
Well, it depends.
Smart marketers don't just post on social media for the hell of it. Your online presence and activity must be tied to your business goals. You should strive for a straight line between social media and ROI.
If you Google "social media trends 2018" you'll find a bunch of posts all pretty much saying the same thing. No one answers the questions:
Why should I care?
How will this help me?
Well, that's what I'm going to try to do with this post. When you're done reading, you will have a clear mental model you can use when deciding whether to use any marketing tactic, not just social media.
But first, let's take a look at the social media trends everyone is predicting for 2018.
https://roadwarriorcreative.com/2017-social-media-stats/
Video will be a Content Strategy Staple
In 2017, spending on social video advertising increased by 130% with no signs of slowing down. 43% of people want to see video content from marketers and 52% of marketers worldwide say video is the format with the best ROI.
With numbers like these, it's a safe bet we'll be seeing more video in brands' social media strategy in 2018. Creating more relevant, high quality videos to establish a deeper connection with their target audience.
http://www.businessofapps.com/facebook-live-popular-live-streaming-app/
The Growth of Live Streaming
Live video will be used more and more to reach brands' target audience, especially Generation Z who are harder to convert using the polished messaging style of traditional advertising.
Empowered by the technology advancement of mobile phones and the support from almost all the major social networks, live streaming will be the main way video is used to reach viewers.
https://www.socialmediatoday.com/social-business/new-study-shows-how-brands-are-using-instagram-stories-boost-their-messaging
Shifting to a Storytelling Content Approach
With Instagram Stories explosive growth, surpassing Snapchat just one year after launch, and YouTube testing its own version of the Stories format, you are going to see a shift to storytelling content as opposed to single bursts of communication.
http://www.meeranwar.com/social-media-activity-mobile-vs-desktop/
Mobile Optimisation
Because the majority of social media is consumed on smartphones, content will be created mobile-first. Think 1080 x 1350 resolution on Instagram photos and vertical video and images for stories.
http://www.pcquest.com/chatbots-promising-exponential-growth-for-futuristic-enterprises-of-today/
Chatbots, Chatbots Everywhere
What started as a niche addition rapidly became a major part of how brands communicate with and provide customer support to their audience.
In 2018, Chatbots will continue to play a major part in social media communications. They will be invaluable for 24/7 customer support but can also give brands a deeper understanding of their customers through the way users interact with them.
https://medium.com/@filip_struharik/biggest-drop-in-organic-reach-weve-ever-seen-b2239323413
The Death of Organic Reach
If Facebook is your main social media platform, kiss your organic reach goodbye. In October 2017, Facebook tested moving posts by Pages from the newsfeed to a separate, Explore Feed.
Brands will have to finally accept this fact and diversify their social media content by platform, type, and delivery method. And paying to show content to their Facebook audience is inevitable.
http://www.convinceandconvert.com/social-media-research/instagram-influencer-marketing/
Increasing (Responsible) Reliance on Influencers
Influencer marketing is the new celebrity endorsement. You get access to your target audience at a fraction of the price of working with celebrities. According to PRWeek, 39% of marketers plan to increase their influencer marketing budgets in 2018.
However, with strong monitoring from regulatory bodies and several influencer-related PR crises in 2017, expect brands to be more selective in who they choose to work with and enforce stricter rules on public behaviour through the duration of the partnership.
http://en.promorepublic.com/blog/beginners-guide-instagram-stories/
A Snapchat Comeback?
2017 was a terrible financial year for Snapchat, with major losses in Q1, Q2, and Q3, a disastrous reception for Spectacles, and Instagram beating it at its own game.
It may look like Snap Inc. is on its knees, but they are not out yet. The company has announced a redesign of the Snapchat app to make it more user friendly and provide better support for marketers.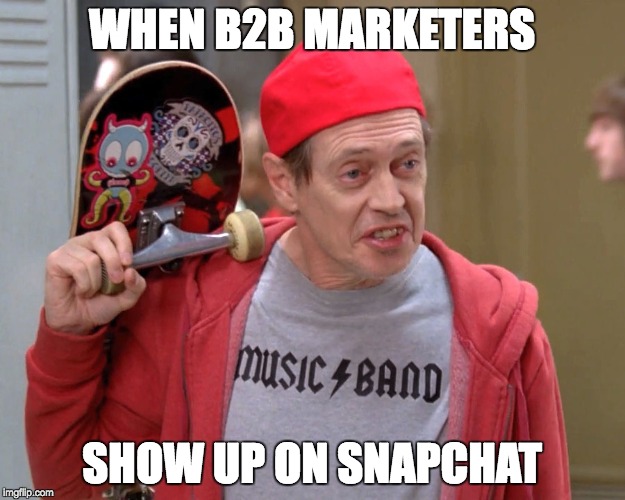 Why Should I Care?
You shouldn't. Not uncritically anyway.
You are not a mass-market brand. You are a B2B company who wants to digital marketing to grow your business by getting the most sales for the least amount spent.
Whether you decide to pursue a particular social media tactic is a methodical decision based on answering these questions:
Is this where my buyers are?
Will generate enough sales to justify the time and money invested?
Do I have the resources to create the right kind of content for the platform?
And if you are using a framework like the Inbound Methodology, every marketing activity should be part of a larger campaign meant to draw your audience through the stages of the Buyer's Journey.
You don't just sign up for an account and start posting cat videos.
So, with that in mind, I'm going to give you five tips on how to get the most of your social media activity for your business.
Tip #1: Master one Channel at a Time
Too many B2B marketers think they must have a presence everywhere. While it's possible, you need someone on your team who only handles social media and nothing else. And even then, we don't recommend it.
Posting on social media and growing an audience are two different things. Unless someone is already a power user on a platform, it takes time to understand the nuances of the platform so you can optimize for engagement.
If you already have social media profiles on multiple platforms, we recommend putting all but one on maintenance mode and focus 90% of your effort on that one.
In most cases, this one platform will be Linkedin, with Facebook coming a close second. You better be killing it on Linkedin before you even think of expanding.
Tip #2: Social Media is Context Specific
What this means is the type of content you create for Instagram will be different than Facebook, which will be different than Twitter, etc. Yes, there are ways you can repurpose content, but you need to move away from a one-size-fits-all approach.
For example, don't just create a 1400 x 1400 image and crosspost to Facebook, Twitter, Instagram, and Linkedin. Think of the user experience. Are they viewing on mobile? Will they see the entire image immediately or will they have to click to expand?
Tip #3: 90% Value, 10% Selling
I can't tell you how many business profiles I see who do nothing but pitch in every post. If you are following the inbound methodology, your focus should be on helping your audience by being Edutaining.
Edutaining – educating by being entertaining.
Here's a good rule of thumb for you to follow:
For every 9 edutaining pieces of content you publish on your feeds, you get to pitch ONCE.
Tip #4: Stop Treating Social Media like Traditional Advertising
Remember what I said about the platforms being context specific? People don't come to social media to be advertised to. They come to interact with friends, share their lives, and entertain themselves.
Too many brands spend massive sums of money on creating traditional video ads to post on social media. This is a massive waste of money and you can get better engagement by being "real".
That's why live video is doing so well. It's raw and unedited.
Tip #5: If You're Speaking To Everyone, You're Speaking To No One
You need to spend some time to work on and refine your Buyer Persona:
Who are they?
Which social media channels do they use?
What are their pains and fears?
What are their hopes and dreams?
What kinds of social media content do they like?
This needs to be done before you think of posting on social media. And once you do, your content needs to be tailor-made to speak to your Buyer Persona.
Wrapping Up…
Many marketing and advertising websites are publishing posts predicting next year's social media trends. The implication is you need to be chasing these trends and implementing them in your business.
No one is telling you:
Whether these trends are even relevant to you and your business context
Whether they have an ROI that makes them worth pursuing
You should now understand you DON'T need to chase the latest marketing fads and fancy tactics UNLESS they make sense for YOUR business.
You also got a simple 5-step framework to apply to your social media activity.
Did we miss any trends?
Leave a comment below and let us now.
Before You Go, Here's A Free Gift
To help you align your marketing efforts with SMART goals, our Partner HubSpot built this marketing planning template that you can download for free. It will specifically help you:
Easily summarise your ultimate marketing goals

Automatically calculate your greatest marketing need

Set a deadline for meeting your annual, quarterly, or monthly goals
Click on the button below for your free download.
{{cta('78a07d1a-158a-40e4-ab40-473c1f0e6ace','justifycenter')}}