Linkedin, founded in 2003 is the world's largest professional network that numbers 546 million users.
Every hour of every day, HR managers and recruiters are scrolling LinkedIn to find suitable employees. The first things they look at are the names and the headlines. Is your headline going to catch their eye or they are just going to scroll over you like an unwanted ad? On the picture below we can see LinkedIn headline of Mate Rimac, which is not exactly eye-catching. Lucky for him he is the CEO of one of the most successful startups in the world, so he can afford it. Can you?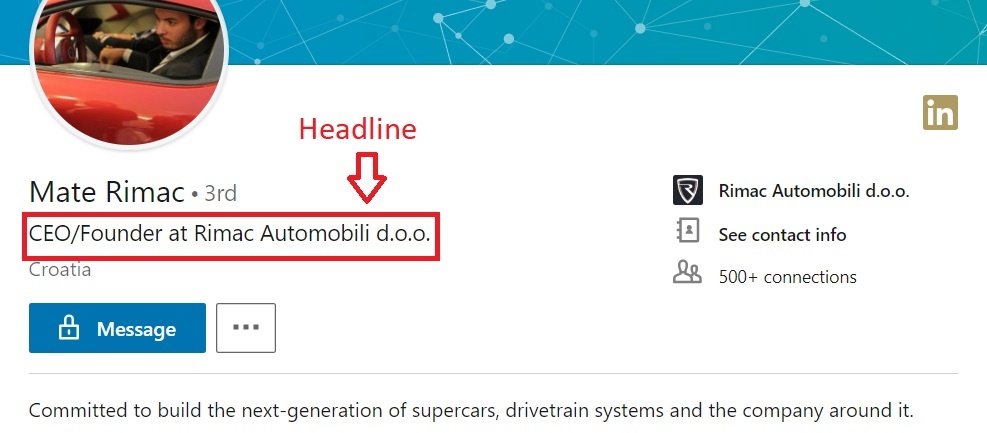 Describing yourself can be one of the most challenging things to do. And that's exactly what a LinkedIn headline entails. Describing yourself professionally, inside 120 characters. That's why most people simply cite current position where they work, which is a mistake no. 1 on our list.
''Build it and they will come'' mistake
To think it is enough that you have a LinkedIn profile, and write your education, past working experience, and the current position is wrong. ''I have made a LinkedIn account and added a few people, my work here is done'' will most likely not get you hired to the desired job. Saving 5 minutes of your time here will not be on any "time management tips" list, because it's not worth it.
That is why it is such a big mistake to be boring with your headline. You will not stand out in any way. Some people even leave their headline blank. In that scenario, LinkedIn's engine will copy your title to your headline so that you might end up with: Student at student or unemployed at unemployed. Not very attractive.
Some other Common Mistakes
Confusing headline – if someone who is looking at your profile is confused at what it even is, he/she is not going to click on it. Avoid abbreviations and industry slang
Headline that doesn't tell anything – headlines like ''freelancer'', ''coach'', ''instructor'' are not even headlines, they are words. You can't know what these people coach, instruct, or freelance from these examples
Bragging – writing words like a superstar, fantastic, hard-working is off-putting
Lying – more often than not people will see through the lie and you will be wasting your and their time, especially if you are hired and not qualified
Misspelled headline – a no-brainer, proofread everything
Principles for writing an excellent LinkedIn headline
The formula for writing a great headline aimed for career growth is this:
What you do
Who you do it for
How it benefits them
Proof/results of your work
The result will look something like this:
"Fitness coach who helps amateurs athletes look like pros. 100+ satisfied customers and counting"
Or like this:
"Email marketing specialist with a proven record of excellent customer relationships and successful product launches"
Some real life examples:
To summarize: you need to tell the world what you do and how it helps them reach their goals. If you need more ideas, you can search through LinkedIn and copy other people (not literally). Here is an amazing article about the importance of a great headline, with more excellent headline examples!
Some more advice
Add keywords related to your industry to appear in more search results. If you are a social media expert, you can add keywords such as SEO, content or similar to your headline. If you ran a team before you can add field-tested excellent team leader skills
Being funny and creative is good. Funny stands out, and you could be hired easily if funny is done properly
Put something you want to do in your headline, not only the things you have done before. For example, if you want to be a feature writer for the NBA, you can write your headline "NBA writing enthusiast", and then you'll pop up if someone searches for NBA writers.
Optimizing your LinkedIn headline is only the first step of using LinkedIn to land your dream job or climb higher up the career ladder! It's a pursuit that requires time, effort, and patience. Nada Enan, Senior Manager Marketing and PR, LinkedIn MENA, offers the following tips on how to best approach finding a new position.
Ask yourself what's wrong: Take a step back and see if you're passionate about what you're currently doing, if not then make a list and see if you can find a job that aligns with your skills and passion
Let people see you: LinkedIn has a bunch of settings for people who are looking for jobs. You already have a job but you can still use it to keep your job hunting skills sharp. Plus, the right offer can be good leverage for you to get a raise or promotion down the line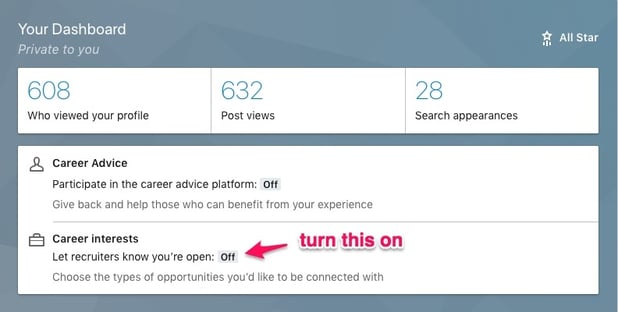 Get networking today: It is almost always a single person you randomly met or emailed who will find you a step into what could be your dream job. This makes networking the best thing you could do, especially if you're in an industry which requires an internal recommendation or a reference.
Don't apply to everything: In desperation mode it is easy to click 'Apply' on every second job posting you see. Patience and smart search results have a higher rate of call backs than applying to 500 jobs that have nothing to do with you. This also means that you might have to go back to the first tip and rehash what's important to you.
Need more tips to make the most out of your LinkedIn profile? Check out 14 LinkedIn Profile tips to climb the corporate ladder!
BTW we have something for you!
Be ready to take your Post Trade Show strategy to the next level with our carefully curated checklist. Use it for your next trade show to get the most out of your leads.
{{cta('c87d4e95-c88f-473c-8ca8-d6ad66b12b5b','justifycenter')}}