When you have a business, product or service, it is kind of inevitable for customers to have one complaint or the other whether warranted or unwarranted. And in this age of Social media and globalization, customer complaints can gather momentum if not properly dealt with and, eventually severely damage a business' reputation.
This is what happens with your "feedback and suggestions"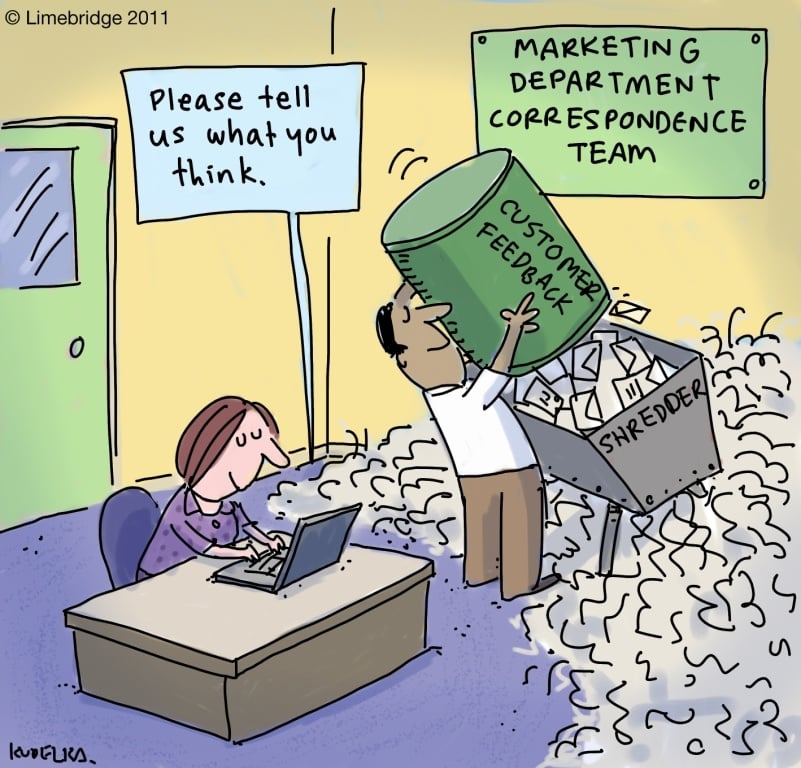 This is why customer complaints should be seen as a door to direct communication and a rare opportunity to interact with customers. Live Chat Inc says that for every customer who bothers to complain about products or services, 26 other customers remain silent. This means that you get feedback from only a few dissatisfied customers and the rest will either give you another chance or walk away.
Therefore, customer complaints are not necessarily a bad thing, in fact, you should think of complaints as free information or feedback about what is not working in your products or services.
MOST EFFECTIVE APPROACH TO CUSTOMER COMPLAINTS
The best approach to customer complaints is to listen to and understand the complaints, handle the problem compassionately (put yourself in the customer's shoes), make the problem your responsibility and solve it as soon as possible.
HOW TO EFFECTIVELY HANDLE CUSTOMER COMPLAINTS
The best way you can handle any customer sharing a complaint is to put your emotions aside. Try not to take customer complaints personally; even if it resorts to insults, take a deep breath, listen to their complaints with professional calmness and take action to help them dispel their complaints.
Don't challenge their complaints
Try to avoid challenging their claims or complaint even if they're wrong. Make sure your attitude and tone of voice are not challenging as you listen to their complaints. Heard the phrase "killing your customers with kindness"? You may wanna put that to action now and genuinely thank your customers for their complaints. Just remember that the alternative to a customer airing their complaints is to take their business to some other place.
Listen to the complaints and acknowledge them
Listen carefully to and understand their complaints. Sometimes, it's not just about offering refunds, exchanging defective items or offering discounts, some customers just want to feel that you actually listened to their complaints. A contributor at Forbes, Niccole Leinbach-Rehyle says letting your customers "vent" can help them feel as if you care, as well as allow them to get whatever it is they want to say off their chest. So listen to their complaints, show validations for their concerns and a little empathy for their situation.
Offer a sincere apology to customers for inconveniencing or disappointing them. Thank them for taking the time to make complaints with a promise to end future possibility of these problems reoccurring.  Instead of arguing with a customer, a simple apology will help especially when the customer just wants a solution to the problem.
After dealing with customer complaints, you can also collect their contact details in order to follow up 24-48 hours after their complaints not just to show that you truly care about their needs and complaints but to also leave a lasting impression that can turn that customer to a faithful customer forever.
CONVERSION OF CUSTOMER COMPLAINTS TO CUSTOMER TESTIMONIES
Live Chat Inc revealed statistics proving that when a customer's complaint is handled successfully and quickly, 95% of customers will give you a second chance. If you use that second chance to impress them then you have yourself a great catch and improved key performance indicators.
The 5-point rule to convert your customer complaints to testimonies:
Resolve every problem that customers bring to your attention on time if not immediately
Try to explain why a problem happened if you know why and thank the customer for feedback
A sincere apology before and after the problem has been solved goes a long way
Even if a complaint was given casually or was obviously not your fault, go the extra mile to solve it
Follow up: Use the complaint as an opportunity to show your customers that you care
Get your free gift before you go…
I get it. You're busy. B2B marketing managers can't spend all day "doin' it for the Gram."
We can help with that. Check out our free cheat sheet on how to monitor your social media in just 10 minutes a day.
Click on the button below to download your free copy.
{{cta('f27ba7ca-fabe-499b-853e-74a7c6367cc8′,'justifycenter')}}