Whenever I am asked which social network is my favorite, my answer is always the same. Twitter. And I almost always get raised eyebrows in response.
You see, despite Twitter being one of the major social networks in the world, with hundreds of millions of tweets sent and over 2 billion search queries per day, many people, including marketing professionals, aren't active on the platform. Some don't even have an account!
If you are one of these people…whether you couldn't figure out how to make the most out of it…or you tried and it did not click with you, you have come to the right place!
Today I'm going to give you 13 tips that will not only help you get started on the platform, but will also make you tweet like a pro in no time!
But first, let's get some fancy terms out of the way, straight out of Twitter's official Glossary!
Tweet: a piece of content that you publish on Twitter. A Tweet may contain photos, GIFs, videos, and text
Retweet: a Tweet that you forward to your followers. Often used to pass along news or other valuable discoveries on Twitter, Retweets always retain original attribution
Mention: mentioning other accounts in your Tweet by including the @ sign followed directly by their username is called a "mention". Also refers to Tweets in which your @username was included
Timeline: a real-time stream of Tweets. Your Home timeline, for instance, is where you see all the Tweets shared by your friends and other people you follow.
Follow/Follower: subscribing to a Twitter account is called "following." Anyone on Twitter can follow or unfollow anyone else at any time, with the exception of blocked accounts. When someone follows you, they receive your tweets in their Timeline and are called a Follower
Trends: a topic or hashtag determined algorithmically to be one of the most popular on Twitter at that moment. You can choose to tailor Trends based on your location and who you follow.
With that out of the way, here are 13 tips, varying from the basic things you need to do as soon as you create an account to Twitter's little known secrets, that will get you tweeting like a pro in time!
1. Pick a professional username
Your username is the part of your Twitter experience that people will see the most. Not only is it part of every single tweet you publish, it is also what people will use to mention and look for you.
Needless to say, it is essential to have a professional user name. Going with your real name or a shortened version of it is never a bad idea.
If the username you chose is not available, try to get creative with it! For example, add your middle initials or your location.
2. Fill out your profile
My dear friend Nabeel went on thoroughly in our blog post last week about the importance of optimizing the different aspects of your LinkedIn profile– if you have not read it already, what are you doing? Read it now!
And the same applies to Twitter. Make sure you upload a professional picture, write a keyword-rich bio, and add a website link. Think of the top keywords you want people to find you when they search for you and try to include them somewhere in your profile.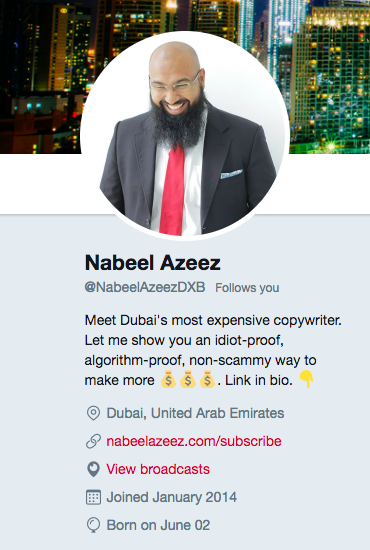 3. Tweet, a lot, but not too much!
Now that you got the housekeeping out of the way, it is time to go all in!
In the beginning, you probably won't have an idea of how often to tweet or the best times to tweet. While there are some general guidelines (check ours here), the reality is you won't know the best time to reach your audience until you experiment.
Make sure you don't spend a lot of time without tweeting something, and I am talking hours here, not days! However, make sure you don't overwhelm your followers by tweeting every 10 minutes! The last thing you want is your followers to get annoyed and unfollow you!
4. Hashtag it (again, not too much!)
If you are active on any other social network, you know how important hashtags are to find and be found for the right content. Twitter is no exception.
In fact, Twitter can be considered the Godfather of the modern use of hashtags; making them the most convenient means for finding the content and people relevant to you before any other platform!
Needless to say, ALWAYS include hashtags in your tweets, the ones most relevant to the topic you are tweeting about.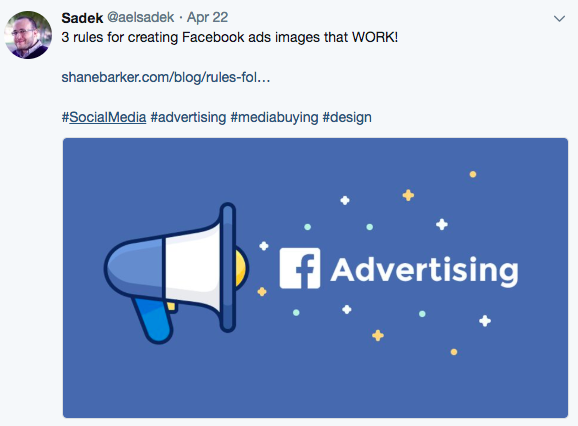 But do not go overboard! Don't turn your tweet into a jumbled mess of hashtags that it becomes unreadable! Moderation is key.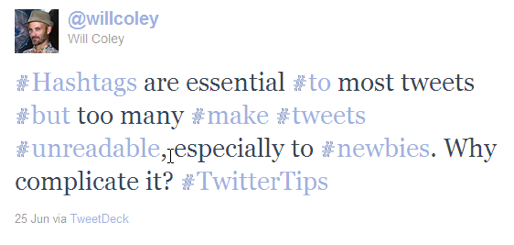 5. Curate/retweet and add your opinion
One of the main reasons people drop off Twitter after using it for a short period is that they feel they feel overwhelmed by the need to come up with a steady constant stream of original content. This is not how you use Twitter!
Curating quality content that is relevant to your industry and interests is a main part of why people follow you. Always try to tweet (and retweet) news content from other sources that you find interesting, and always make sure you add your "two cents" to the topic.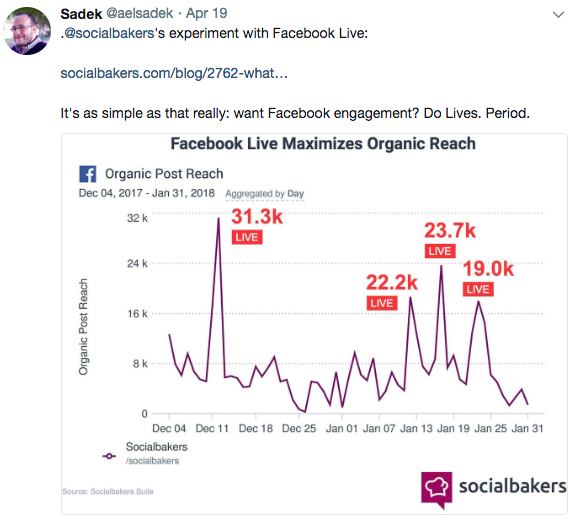 6. Give people credit
If you are sharing someone else's content, always share the love and give credit! Not only it is a key part of Twitter etiquette, but it is actually a key method to engage with other Twitter users and build solid online relationships.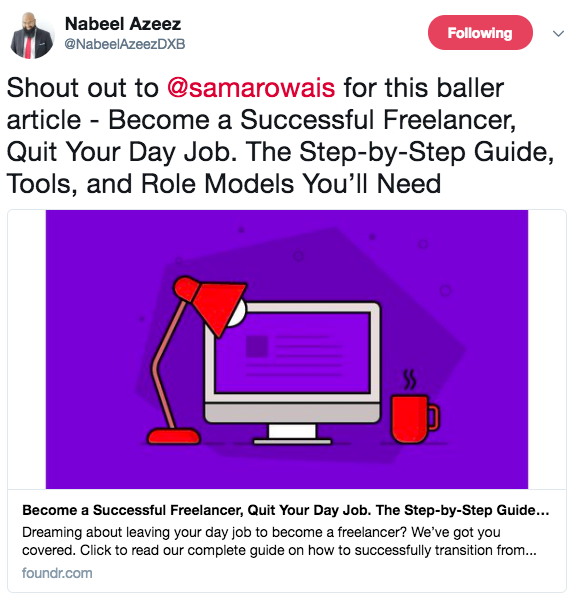 7. Don't be afraid to get personal
One of the biggest mistakes I see many professionals do on Twitter, specially senior managers within the marketing and advertising industries, is that they treat their personal profile as if it is their company's profile, limiting the content they publish to that of their industry, or worse; their company's news!
You need to understand that people follow you because they are interested in you, not your company. And while they might have followed you initially for your thought leadership on your industry, your followers will always appreciate the "human" moments from you.
Feel free to post about a great movie you saw, root for your favorite team, or tweet pictures from your vacation getaway. Remember, no one wants to follow a robot!
8. Schedule your tweets
Since you cannot guarantee that you will always have the time to tweet manually, scheduling your tweets is key to maintaining an active Twitter presence. Not only that, if you know peak tweeting times when your followers are online, you'll know when to schedule tweets for maximum engagement.
Scheduling tweets is as easy as it gets with several free tools available such as Tweetdeck, Hootsuite, and Buffer.
9. Create lists
As you become a regular user of the platform, you will find yourself following a lot of people, and this is where your Timeline starts becoming an unreadable mess you can't keep up with.
Enter Twitter lists. Twitter lets you to create "mini timelines" of other Twitter users. Use lists to organize the people you do not want to miss their tweets and add the most value to your online time.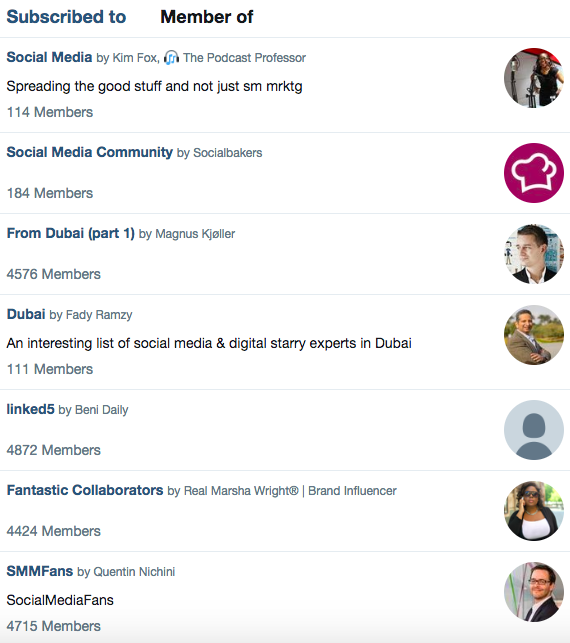 10. Always reply when someone mentions you:
For any brand, engagement is the key to success on social media, and your personal brand on Twitter is no exception!
To maintain your credibility and the interest of your audience, always make sure that you reply when people engage with you, even if they are not your followers.
If you use Twitter only as a broadcasting network, it is highly unlikely that people will want to follow or engage with your content if you ignore them!
11. Listen to what is being said
Because of the open nature of the platform, Twitter is perfect for finding what is being said about a particular topic. It's actually the best platform for getting feedback on your brand through social media monitoring.
In fact, I have previously written a detailed blog post here on the importance of social media monitoring and how you can do it for your brand in less than 15 minutes a day! Give it a read for more on this subject!
12. Don't be afraid to tweet your content multiple times
If you are using Twitter to mainly promote your content, feel free to tweet the same article/blog/podcast/whatever content you are creating more than once.
Reposting, especially on Twitter, is very effective at boosting engagement. This is because the lifespan of a tweet is only 20-30 minutes. Your followers will be online at different times of the day – some will also be in different time zones – so it's very likely they didn't catch your tweet the first time around.
13. Tweet responsibly!
We have all heard the stories of the PR nightmares and people losing their jobs after making inappropriate tweet.
The easiest way to avoid this is to use Twitter with the assumption that the "delete tweet" button does not work! Even if you delete a tweet only a few minutes after posting it, there is a high chance someone already took a screenshot of it and shared it.
Exercise discretion when tweeting on controversial topics. The U.A.E government takes bad behavior online very seriously. The last thing you want is to land in hot water for a 30-second lapse in judgement.
If the tweet is an opinion of yours that you have doubts about expressing, you should definitely not post it! Same applies for retweets.
Conclusion
If you've read up to this point, you know all the basics of using Twitter.
How to set up your profile
What type of content to tweet
When to tweet
How to engage with your audience
And more…
As you can see, Twitter is one of the easiest social media platforms to use. The best part about is, if you use it right, it's the best platform to have real, human connection and conversations with your audience. This does wonders for your brand online.
And if you implement all of my recommendations, you'll be a Twitter pro in no time.
Do you have any Twitter tips you think I should have included, but didn't? Leave a comment below and let me know.
Before you go…
To make your time on Twitter more productive, so you can get excellent results in as little as 10 minutes a day, I've put together a FREE social media monitoring cheat sheet.
Click on the button below to download your copy.
{{cta('f27ba7ca-fabe-499b-853e-74a7c6367cc8′,'justifycenter')}}