Remember Chewbacca Mom?
The live broadcast outside of a Kohl's department store? That video has garnered 174 Million Views and 3 Million likes.
What about the Buzzfeed video where they explode a watermelon one rubber band a time? It reached 11 Million views.
So, what's the secret of these two videos?
They're both Live videos!
So what's Facebook live?
Facebook Live is a live video streaming feature on Facebook that allows you to broadcast a live video out to your audience through your company page or personal profile. Facebook Live was released in April of 2016, and while many marketers are still getting their heads around it, the ones who are using it seem to be reaping the benefits.
How so? Facebook has updated their ranking algorithm to show more live videos that are streaming in real-time.
But are there any benefits to live videos?
3 main benefits to Facebook Live:
It helps build trust with your customers.
Facebook Live videos produce 6x as many interactions as traditional videos.
They are highly shareable. A recent study showed that Facebook Native videos (which includes Facebook Live) drew 530% more comments compared to Youtube videos.
How Facebook Live can help your business:
With a Facebook Live video, you have up to four hours to broadcast, and users who engage with your brand regularly will receive notifications leading up to it.
Viewers will be able to watch in real-time and leave comments as you are broadcasting; this gives you the potential to interact one-on-one with the audience you are trying to target.
Following the broadcast, the video will be posted on your timeline, and any of your target audience that missed the live broadcast will be able to see the recorded version.
Facebook Live gives you direct access to the people your brand needs to be speaking to, with the bonus of real-time reactions and commenting on your video content.
Facebook Live Videos Ideas:
Ideally, you will have identified some possible ideas for the video content during your research and planning process. If you are still struggling for ideas, here are a few that I have seen get great results for other B2B brands.
1. Presentations
As a B2B brand, there is a good chance at least some of your team will be used to giving presentations at industry conferences. Taking those presentations and moving them to Facebook Live can massively boost exposure.
If you have decided that your key target audience are potential partners or investors, this can be a great way to show your expertise and brand authority.
2. Behind the Scenes
This technique might not be right for all B2B brands, but it is something that regularly works well. Every business is run differently and has more to show than they might believe.
Behind the scenes content allows you to show key audiences how your business actually runs.
As with other Facebook Live videos for B2B, it isn't going to be the sexiest content — but you are demonstrating your expertise to those key audiences that you defined at the start of the campaign.
Middle of the desert?
Still not going to stop us from attending to our clients needs.
Sorry for the intrusion @aelsadek ?#MyDubai #ClientWork #Desert pic.twitter.com/KWo4xDAWUp

— Ubrik Media (@ubrikmedia) November 14, 2018
3. Q and A:
This is one of the easiest tactics and one that doesn't require lots of planning. You simply host a Q and A, preferably having a topic in mind, one that target audiences care about and go live!
In fact this format has been so popular that a lot of marketers use #AMA as part of their content strategy.
Gary Vee has taken it one step further by creating a hashtag around it called #AskGaryVee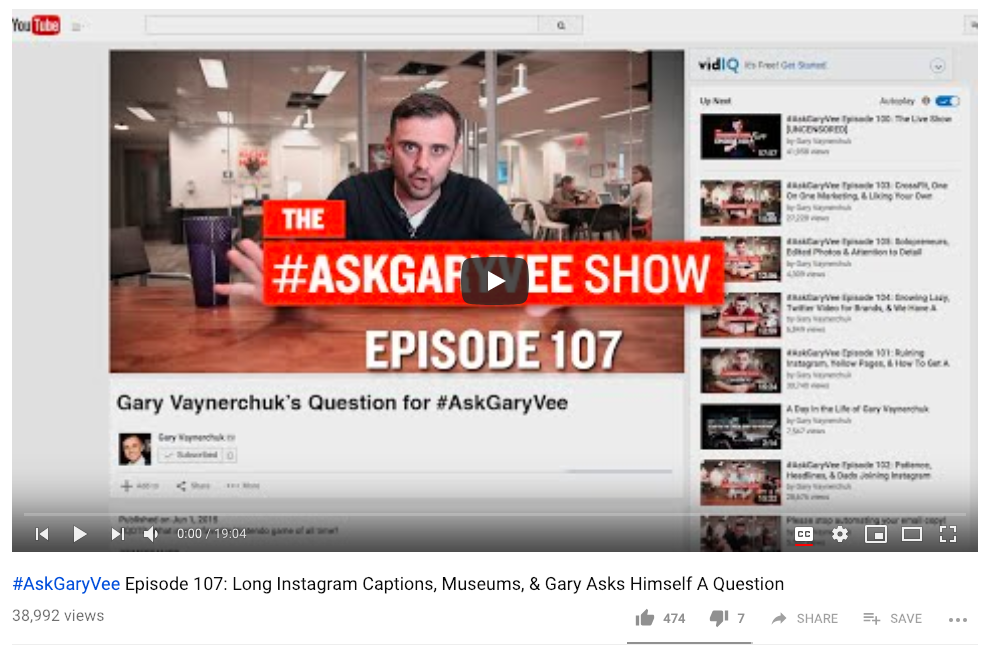 Facebook Live Best Practices:
Unlike many other forms of content, it can be difficult for companies to generate ideas for live video. Fortunately, there are several great topics most businesses can utilize to create compelling live video content on a regular basis.
1. Practice your Facebook Live in advance:
Yep, this might come as a shocker and despite Live videos looking spontaneous, they mostly aren't and that's okay. Your live videos don't need to look like they're polished ads, but that doesn't mean you create one without thinking ahead. You'll need to plan what topic you're going to speak on, what's the objective of the video, who will be speaking in the live and so on.
Once you do this, you realize this makes the a) speakers at ease because they now know what the talking points are b) helps remove any nervousness c) you'll be prepared if there are any technical glitches or awkward transitions.
So always practice your facebook live in advance, but not so much that they sound scripted.
2. Don't stop even if you've made a mistake:
In the real world, sometimes we use the wrong word or term, it's natural, but you won't be reprimanded for it. Of course, on camera, you don't want to make mistakes or cause your video editor to pull their hair out.
But on a Facebook Live stream, it's just as normal and could be good fodder for the conversation. Slip ups happen, so if you make a mistake, don't get discouraged. Use it, make a joke, turn it into enthusiasm, but just keep going! Don't be afraid to do that. That's what makes Facebook Live so powerful and fun, because it's not overly polished. Also you should keep your global audiences in mind – make sure to list the various time-zones so everyone can be watching at the right time.
3. Break the Fourth Wall:
Effective social video is all about "breaking the fourth wall"—speaking directly to viewers, looking into the camera and addressing them by name.
The whole point of Facebook live is to interact so interact. Talk to your audience, ask them questions or drop a hello when you see them join the live. Remember, broadcasting is a two way street, to get engagement, you have to be engaging!
Ask them if they have any questions or opinions, and if they do, respond to them immediately. You don't want to ignore their questions or leave them hanging for too long otherwise they'll feel ignored.
Here's the Wrap Up:
Facebook Live has far greater potential than most businesses assume. By becoming an early adopter of the technology, you have the potential to reach a greater percentage of your target demographic and substantially increase your reach. Think about some of the ways you could implement Facebook Live into your marketing strategy and start broadcasting today.
Before you leave we have something for you!
Don't want to spend hours and hours on social media every day? Download our free Social Media Monitoring cheat sheet!
Did you know you can monitor your business social media accounts in just 10-15 minutes a day?
That leaves you free for more cat videos and memes on your personal accounts. 😉
You're in luck! I've created a FREE cheat sheet to show you EXACTLY how to do it.
Click on the button below to get your copy.
{{cta('f27ba7ca-fabe-499b-853e-74a7c6367cc8′,'justifycenter')}}