Linkedin is not just a B2B marketing platform. Brands like Target, Starbucks and Amazon are cracking it on the professional social network with ease. Although most universities in the UAE resort to ad formats such as text ads, it's time to step up the game and reap some serious numbers. This begins with a broader understanding of the platform and potential within.
Why is Linkedin popular amongst universities?
Its pretty obvious:
Every kid wants to be a professional one day. And they're trying to make a place for themselves on the world's largest professional network
Linkedin is the perfect ground to attract & enroll a 'well-educated' generation Z prospect
It's a perfect fit for Postgraduate courses. MBA being the most popular amongst them.
The platform is an ideal destination to amplify existing content that universities put within their corporate profiles. Create a following that can be nurtured into leads and referrals.
Linkedin ads are best suitable for various reasons as mentioned below. Once you initiate a campaign, monitor select elements to detect what's working best for your university:
Brand / Course / Intake awareness – monitor your Boost in branded search
Lead Generation – Monitor Lead capture via form fill-outs
Website and Referral Traffic Lift – Monitor Increases in traffic to your site from Linkedin
Increase Engagement – Monitor Page views for targeted pages, pages per visit, time spent on site
Subscriber Lift – Monitor Company Page followers, newsletter or blog subscribers.
Don't forget to save screenshots you kick start a campaign.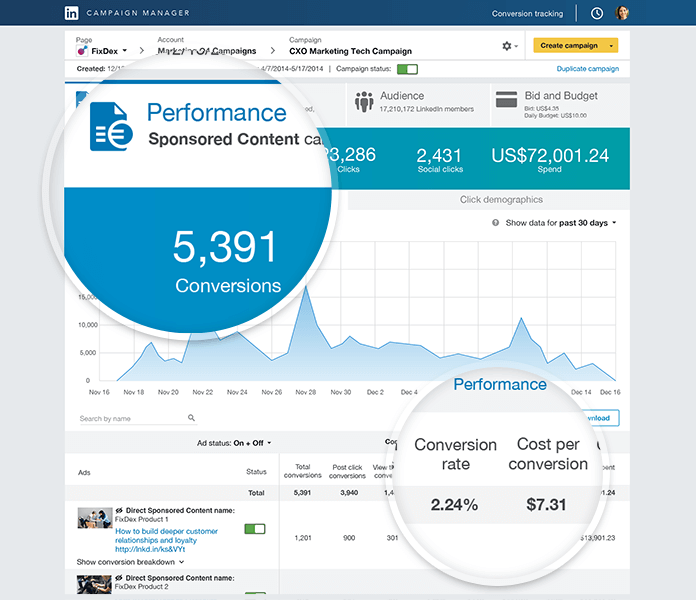 Benefits for Online Marketeers
Linkedin houses 3,100,000+ no-nonsense audiences in the UAE
For Undergraduate courses, Linkedin houses 110,000+ UAE members aged between 18-24 with 47,000+ of them being males.
For Postgraduate courses, Linkedin houses 480,000+ UAE members aged between 25-34 with 250,000+ of them comprising males.
Conversion tracking – This functionality allows marketers to better understand how ad campaigns impact the bottom line. Use Google Tag Manager to place your Linkedin insights tag and implement these during webinar sign-ups, brochure downloads, open house pre-registrations, enrollment inquiries etc.
Apart from audiences, Linkedin has equipped itself with precision targeting options as well as upbeat ad formats so marketers can find themselves on a more upscale social media playground compared to others.
Paid Ad Formats
Sponsored Content – Sponsored Content allows you to deliver content to the Linkedin feed of members beyond those who are following your company. Sponsored Content can be targeted to a specific audience, and can help advertisers reach Linkedin members wherever and whenever they are engaging on the Linkedin platform across desktop, mobile, and tablet. Click this link for more information on sponsored content Specs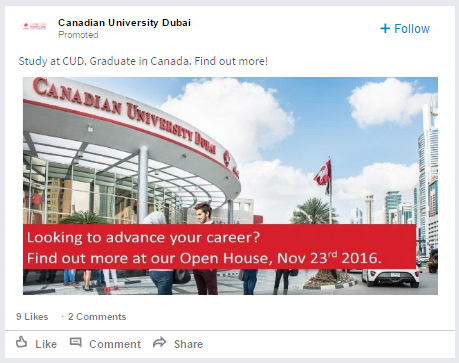 Sponsored InMail – Deliver appropriate & personalized content via LinkedIn Messenger with this distinct ad format. Using Sponsored InMail, you can:
– Reach targeted audiences on desktop and mobile
– A/B test messaging to resonate with your target audience
– Drive conversions with personalized messages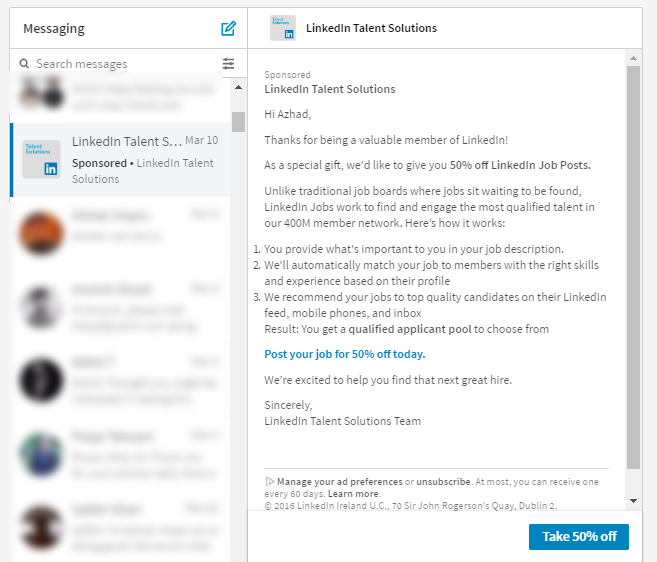 Text Ads – appear on the right-hand side of the desktop site. Featuring a small visual and short message (up to 100 characters), this simple format is highly effective at brand awareness and lead generation. Check out how Inbound Marketers HubSpot used Text Ads for a 60% higher CTR than other channels they were running campaigns on.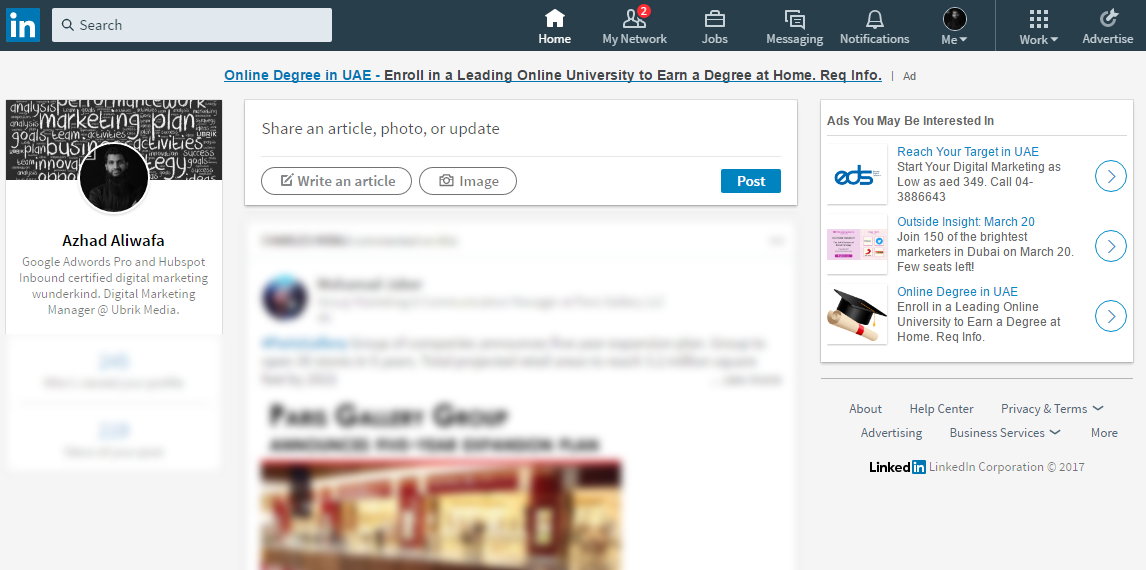 Targeting Arsenal
Unlike its counterparts, Linkedin provides an unparalleled array of targeting options for educational institutions to take advantage:

The trick is to find secret blends that work well alongside your landing page, messaging and target persona. Try A/B testing between:
Geo + titles & geo + skills
Geo + company size + seniority & Years of Experience + Function.
Geography/Industry/Function A/B test without Geography, or with Job Title instead of Function
Key points to remember:
Linkedin moves much more slowly than Facebook. Brands might boost a post for a day or two on Facebook. On Linkedin, campaigns ideally run for a minimum of three to four weeks and potentially for months at a time. That's more time to optimize as well.
Aim for an Engagement Rate of 0.5% to 1.5%
Start broad and then optimize to narrow down.
Bid slightly beyond the suggested range for a higher chance at winning the auction.
Pour in more daily budgets in the start of the month or quarter. These collect more data for optimization and gens more activity
Run multiple variations of each ad, with one variable changed
Aim for audience pool between 50k-500k mark
Do not laser target
With longer campaign duration, test and keep testing
Most importantly: Why is Linkedin advertising expensive?
The answer is simple: Gems don't come cheap. Marketers know for a fact: If a product price is higher, there's got to be an element of valuable behind it.
Although CPCs may vary from case to case (and requires brands to contact a paid marketing expert), here are some essential bits to keep in mind before initiating a campaign.
For sponsored content & text ads:
You can configure campaigns to run on a daily budget or total lifetime budget.
Minimum daily budget is $10
Social Actions are not billed by LinkedIn ads.
Suggested bids vary based on targeting criteria mentioned
Sponsored InMail ads is purchased on a Cost-Per-Send basis, which means you will pay per unit for each InMail message delivered.
Blast off to the next level
For best results, universities must consider combining LinkedIn Ads with the Inbound Marketing methodology. Like most marketing tactics, LinkedIn ads work better only as part of a holistic marketing strategy. Most audiences need more than one interaction before they enroll and LinkedIn is a great place to learn more about your university's people, courses, and culture.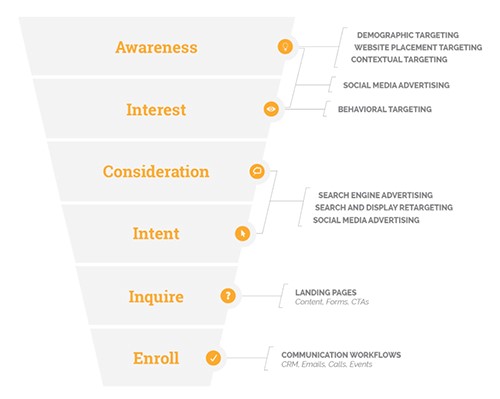 Using the above acquisition cycle, HubSpot revealed that traffic from LinkedIn generated it's highest visitor-to-lead conversion rate (2.74%) amongst social networks. That's a staggering 3x higher than Twitter (.69%) and Facebook (.77%).
Having understood that marketing managers still have'nt unleashed the true potential of Linkedin Ads for College Admissions, the next best steps are:
{{cta('c37b962f-65f7-4c5e-ae5d-7676b892c2b3')}}