Recently I shared with you 5 powerful tactics you can implement right now to kickstart your B2B company's social media presence.
If you have read that post, you will remember that one of the tips I mentioned was monitoring your competitors and getting inspiration for your own content calendar and communication approach.
And if you haven't, then what are you doing? Go on and give it a read now. It's okay, I'll wait.
Back? Good.
Today I am going to expand a bit more on the monitoring aspect of social media and how to use it to not only maximise your leads, but also ensure that you continuously delight your existing customers.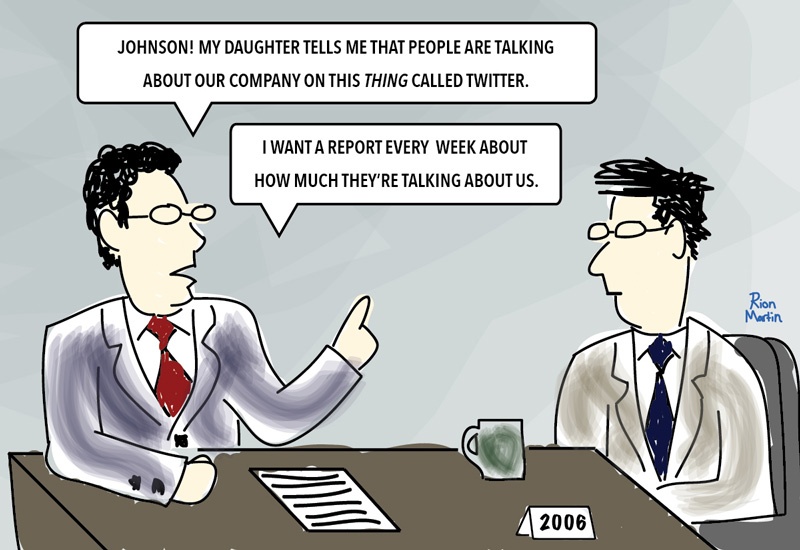 But first, what does social media monitoring actually mean?
Basically, social media monitoring is the process of collecting messages from various social networks that relate to a keyword or a set of keywords that are relevant to you, your brand, or your business and taking the appropriate (immediate) action(s) if needed.
Social media monitoring is often used interchangeably with the term social media listening. While both are almost semantically the same and often involve to the same set of processes that you will take, the purpose behind the actions is what tells them apart.
Social media monitoring is primarily carried out in order to take immediate action, for example, businesses using social media for customer service, while social media listening is carried out with long term actions in mind, for example, gathering sentiment data about a new product or doing market research to identify a gap your business can fulfill.
Now that you know what social media monitoring is, you might be thinking:
"My B2B business does not need that! I closely manage my business's social channels and efficiently manage my customers feedback and expectations."
The reality is, this couldn't be further from the truth!
Let me tell you a fact:
People ARE talking about your brand online, even if you are not part of the conversation.
What that means is, even if you are not receiving direct feedback from your customers about your products or services, chances are, they are talking about them amongst each other, and more often than not, they will be talking about a negative experience they had with your business.
Wouldn't this be a conversation you want to be part of? Your answer here should always be a resounding YES!
Even if you would not be addressing your customers problems immediately, you always need to have a clear idea of what your target audience and customers think about your brand and products.
And this is where social media monitoring comes in.
Now, one of the biggest misconceptions of social media monitoring is that it is a venture that needs extensive time and effort to carry out. Reality is, if you efficiently plan it, you can execute your social media monitoring activity without spending more than 10 minutes of your day.
To achieve this, you need to answer 3 main questions
Who would monitor social media for your brand? What should they be looking for?
Which social media channels should be monitored? Which content streams within these channels should be monitored?
When should you react? When is it enough to only listen?
First, the WHO
Social media monitoring is not, and should not be, a one-man-band activity. All of the different departments within your business can carry out monitoring-related tasks for different purposes, namely the marketing, sales, and customer support teams. Which team you assign is based on your industry, type of company, and reasons behind your social media presence.
Marketing Team
The marketing team needs to think about a brand's overall image. Beyond brand image, Marketing needs to think about generating visits, leads, and customers on a daily basis. Growing the top of the funnel and bringing in a new audience on social media month over month helps to hit key numbers throughout the entire funnel.
However, social media doesn't just belong to Marketing anymore. Actions that a social media manager take can seriously impact all other departments such as Sales and Customer Support, and it's something to keep in mind when monitoring.
Marketers should collect information from social media to help create better marketing campaigns, enable sales in closing more deals, and delight customers. Social media managers on a marketing team should see themselves as the point-person for multiple departments' different goals.
Your marketing team should mainly monitor the following:
The activity of your different leads based on what product or service they are interested in
The activity of thought leaders in your industry when they mention certain terms on Twitter
The conversation around the words and phrases that are core to your brand
Sales Team
According to research from Social Centred Selling and A Sales Guy, 72.6% of salespeople who incorporated social media into their process outperformed their colleagues. In addition, social-media-savvy reps beat their quotas 23% more often. This is known as Social Selling.
Social Selling is the process of researching, connecting, and interacting with prospects and customers on social media networks. Through commenting on, liking, and sharing prospects' and customers' posts, salespeople create relationships with buyers and boost their credibility by taking an interest in what they're interested in.
Instead of a hard closing tactic, social selling more closely resembles lead nurturing. Therefore, social selling isn't for reps seeking quick wins or a silver bullet. Salespeople have to be willing to put in the time and effort to engage with their target buyers on an ongoing basis, and even then, there's no guarantee that their efforts will pay off.
Your Sales Team should mainly monitor the following:
Their open leads' conversations, using the integration with contact lists
Their "closed lost" leads' mentions of certain terms, using the integration with contact lists
Their "closed won" leads to check in with them after the sale, using the integration with contact lists
Customer Support Team
Here's a fact, when your customers complain on Twitter about one of your products, they expect a response within one hour.
In today's world, Twitter is the new phone for customer support, and now more than ever, it is significantly important to provide a quick response when someone has an issue with your brand. Having a brand's customer support team on the thread is sure to help settle a tricky complaint — after all, these folks are professionals in crisis management.
Using social media monitoring, your Customer Support team can efficiently and rapidly resolve your customers' problem, ensuring a solid consumer experience that will maintain the image of your brand.
Your Customer Support team should mainly monitor the following
Questions or concerns people have about your products or services
Conversations your customers and leads are having about your products or services
Positive and negative feedback for your products or services
We made one pic.twitter.com/DQEEfiuo29

— Monterey Bay Aquarium (@MontereyAq) April 6, 2018
When you social media like a real person. The image above is a meme-within-a-meme (a meta-meme.)
Second, the WHAT
Now that you have identified which of your teams need to add social media monitoring to their task-lists, the next question you need to answer is what to "listen to" on each platform.
Ideally, you want to ensure that you are monitoring all of them. However, more often than not you will find that you need to follow only one or two based on where your target audience is. Yet, even if you decide on monitoring only one social channel, you can get overwhelmed with the sheer amount of content streams within it.
The good news is, you don't need to! Here is a breakdown of what you specifically need to monitor on each social network, and how you can consolidate and consume the most important information.
Twitter
Twitter mentions and searches
Relevant questions about your industry
Requests for support
Complaints and feedback
Competitor mentions
Timeline posts
Comments
Private messages
Reviews
LinkedIn
Company page
Groups' discussions
Finally, the REPLIES
As you start your social media monitoring activity, you will feel tempted to respond to each and single mention of your brand. This will get overwhelming pretty quickly.
The good news is, you don't have to reply to each and every comment you see. Based on the type of message, it is sometimes more than enough to only listen and take note of what is being said about you.
To decide which is which, use the below formulas:
Positive + False = Respond
Positive + True = Listen or Respond
Negative + Troll = Listen
Negative + Not a Troll + Rant/Joke = Listen
Negative + Not a Troll + Not a Rant/Joke + Erroneous Information = Respond
Negative + Not a Troll + Not a Rant/Joke + Not Erroneous Information + Unhappy = Respond
Negative + Not a Troll + Not a Rant/Joke + Not Erroneous Information + Not Unhappy = Listen
Additionally, if you decided that you have received a message that needs a reply, make sure you:
Respond promptly and accurately
Show gratitude and respect. Never respond in an offensive or defensive way.
Include facts instead of opinions and link to factual reference materials to support your case
Respond in a tone/voice that reflects the company's culture and values
Let the person know how you're connected to the company
One last thing to keep in mind
Despite the fact that social media monitoring is not a time-consuming activity, understand and accept that it also not necessarily an easy activity. While the tactics and steps seem simple enough, what makes this activity a bit challenging is the unpredictability factor.
See, I can tell you the methods to follow in order to minimise the time you spend listening to social media, but if it is the first time you are doing it for your business, it could take you more time than you expect. This is due to the initial steps of setting up your activity and getting a better understanding of what your audience are saying and how they are talking about you, then figuring out the best way to interact with them.
However, as you make the social media monitoring activity a daily routine, you will significantly reduce the time and effort associated with it and achieve maximum results in no time!
That was a long one, wasn't it?
To conclude:
Social media monitoring is a beast that you should not be sleeping on. Not only for improving your customer support, but also keeping track of your leads, delighting your consumers, and as a result, maintain the stellar image of your brand.
Summary
Identify which teams of your organisation need to execute the monitoring activities
Decide on which channels your business needs to monitor
Understand that you cannot reply to everything, but learn when it is a MUST to reply to mentions of your brand, and when to take a step back and only listen to what people are saying about you
Accept that you won't get it right from day one, but as you continue monitoring the mentions of your brand on social media, you will get a better idea of how to better engage with your target audience and achieve the maximum results from your activity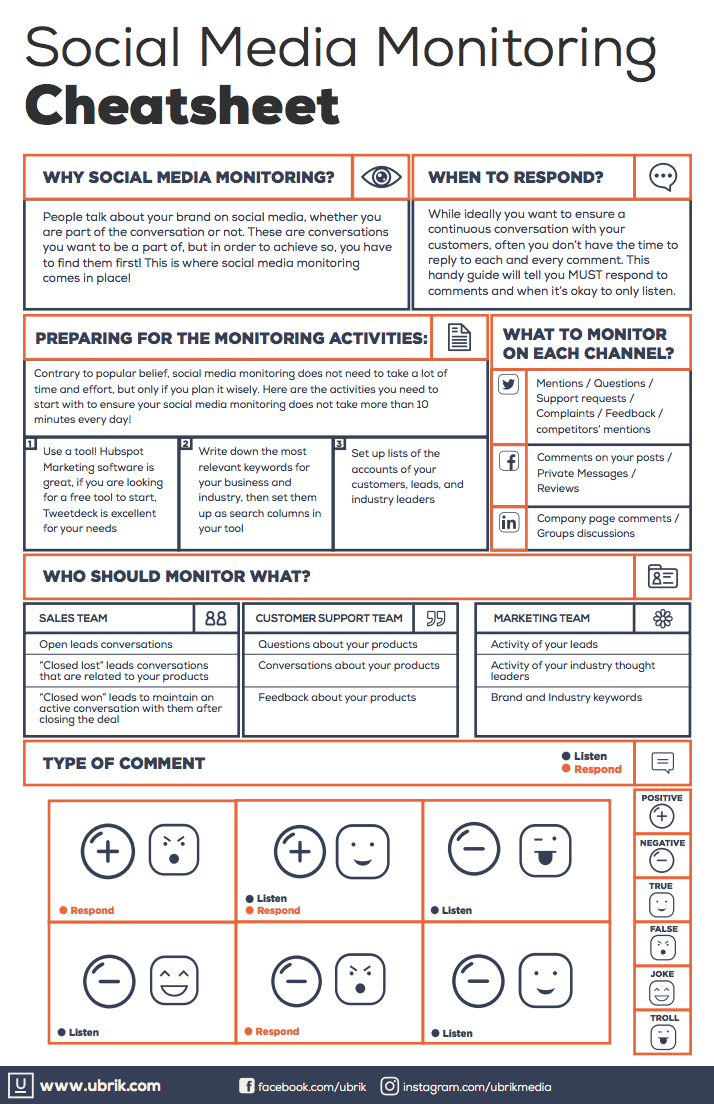 Don't want to spend hours and hours on social media every day? Download our free Social Media Monitoring cheat sheet!
Did you know you can monitor your business social media accounts in just 10-15 minutes a day?
That leaves you free for more cat videos and memes on your personal accounts. 😉
You're in luck! I've created a FREE cheat sheet to show you EXACTLY how to do it.
Click on the button below to get your copy.
{{cta('f27ba7ca-fabe-499b-853e-74a7c6367cc8′,'justifycenter')}}