Walk into the conference, like whaddup I got a big KPI ?
Okay jokes aside, raise your hand if you know what KPI means
I know you've heard of it, but do you know what it is?
No? Nada? Cool.
Not many people know what it means but it's still the most over-thrown jargon in ANY meeting you go for.
Here's a lil corporate tip for you: If you don't know ja*k shit in your next meeting, just throw the word KPI's around and you're all set.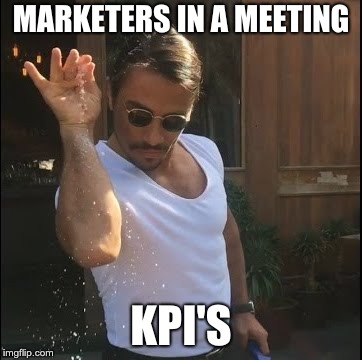 Although it is one of the most over-used terms in business development and management, KPI is only completely understood by few people. KPI can give you a good evaluation of your customer service staff whose core responsibility is addressing customer complaints and other related issues.
So let's look into what KPI is:
Key Performance Indicator (KPI) is a type of performance measurement that evaluates the success of an organization or of a particular activity (such as projects, programs, products and other initiatives) in which it engages. KPI metrics translate complex measures into simple indicators that allow decision-makers to assess the current situation and act quickly.

FACTORS THAT MAKE KPI EFFECTIVE
Simplicity: The simplicity of Key Performance Indicators is important to carry employees along. The simplicity makes it easier for everyone in the company to know what KPIs are measuring and how they are being calculated
Measurable: Key Performance Indicators should be kept at a manageable level with concise measurable attributes or characteristics so that employees are not overwhelmed with too much data
Actionable: Key Performance Indicators cannot be effective if the business does not know what to do with its results. Therefore, KPIs should answer questions which will then be used to make informed business decisions
Timely: The frequency of Key Performance Indicator reports is also very important for its effectiveness. An organization should consider how urgent and sensitive measuring the KPI is to business goals to decide how often they will need KPI results
Visible: When employees are aware of Key Performance Indicators, they will be incentivized to be more productive and pay attention to their performance. Visible KPIs show employees how their work contributes to the business' overall progress
Cascading: Effective Key Performance Indicators should trickle down from the strategic goals of the organizations to the daily operations of the employees.
KEY PERFORMANCE INDICATOR AND PRODUCTIVITY
A business' productivity and profitability depend on making sure that all its employees are performing up to their fullest potential. Key Performance Indicators are used by companies to analyze and track the performance of the staffing and the results of business decisions, they help businesses make informed business decision based on observed performance and, as a result, lead to greater productivity.
IMPORTANCE OF KEY PERFORMANCE INDICATORS IN MARKETING STRATEGY
They boost employee morale, culture, and capacity
They help everyone in the company to see the goals of the company and their roles in achieving these goals
They help to track business progress, profitability, and employee productivity
They keep business goals and objectives at the forefront of business decision making
HOW TO ADOPT THE RIGHT KEY PERFORMANCE INDICATORS FOR YOUR BUSINESS
Measuring and monitoring your business performance is very important but focusing on the wrong metrics can be harmful to your business. To ensure that you are doing it the right way, your KPIs should be:
Aligned with your business objectives and goals
Key Performance Indicators must be grounded by the goals and objectives of a business. Klipfolio advises that since most businesses have long, medium and short-term objectives, the debate of whether top-down or bottom-up approaches should be adopted can be solved by using the following tips:
Using different KPIs for different levels of management
Using KPIs that are informed by a union of both top-up and bottom-up approach performance metrics
Using unique KPIs designed specifically for your business and its goals
Attainable: Adopt affordable KPIs whose data can be easily acquired for business decisions without costing the company an arm and a leg. Don't pick overcomplicated KPIs.
Accurate: Make sure that the KPIs being adopted will produce accurate non-ambiguous data and results that can be relied upon to make informed business decisions.
Actionable: Make sure that the selected KPIs can be used for business decisions. Don't adopt KPI that will not be able to completely answer business questions it was selected to answer.
Specific: Adopt KPIs that you are sure will work for your business, don't imitate the KPI of another company and hope that it will work for you. SMART is a methodology that helps you establish concrete and achievable goals. SMART stands for Specific, Measurable, Attainable, Relevant, and Time-bound.
PREPARE FOR SMART MARKETING WITH THIS GOAL-SETTING EXCEL TEMPLATE
To help you align your marketing efforts with SMART goals, our Partner HubSpot built this marketing planning template that you can download for free. It will specifically help you: 
Easily summarize your ultimate marketing goals

Automatically calculate your greatest marketing need

Set a deadline for meeting your annual, quarterly, or monthly goals
Click on the button below and download the free template.
{{cta('78a07d1a-158a-40e4-ab40-473c1f0e6ace','justifycenter')}}