The United States of America Supreme Court recently upheld the Trump administration's travel ban.
This means U.S.A. will categorically refuse entry visas to prospective travelers from Chad, Iran, Libya, Somalia, Syria and Yemen, plus North Korea and Venezuela.
Be it marriage or marketing, nothing does better than impeccable timing.
While students from Muslim countries have taken a surprise hit in America, universities in the UAE (and nearby) must take note of this opportunity to prove their worth.
The Status Quo
The 16,000 existing US student populous hailing from Iran, Iraq, Libya, Syria, Yemen, Sudan and Somalia cannot help but assess the repercussions of this 'temporary ban' as it surely indicates an unstable future for them in the United States and elsewhere.
Until a while ago, these students were confined to the US. If they left to visit their home countries or anywhere else, they would have been unable to return and resume their studies.
Recent reports have indicated a bit of toning down, with the US state department reversing the controversial ban. With Trump vowing to restore this, let alone getting frisked at airports, no one would take a chance at being stranded or tossed around.
Never the less, there's no shortage of new people joining the bandwagon to 'head west'.
Guys' we're talking the future of Generation Z here
The National, an Abu Dhabi based newspaper reported incidents of students aged around 16 who graduated from Cambridge High School – Abu Dhabi, feeling lost amidst their pursuit for a degree in biology and eventually learn medicine within American universities.
"We were opting for America not just because of the quality of education but also because we heard lots of good stories about the multicultural and tolerant American society. But I have lost hope in America," said Sara, who wants to enter medical school and is in the process of applying to universities. Sara, who was brought up in the UAE, is now looking at universities elsewhere.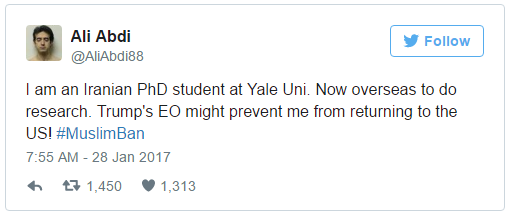 According to Caroline Kitchener, author of 'Post Grad – Five Women and Their First Year Out of College': "faced with that much uncertainty, most students would rather leave America for good."
What would one expect when parents pour out funds to secure their offspring's future? Most end up taking hefty loans to undertake this massive feat as it's not the 'money' they're concerned about.
"There is only so much that a person can tolerate." America is no longer the Promised Land. After Brexit and Trump, this could only be the beginning of a 'not so friendly' trend across multiple destinations.
There's no substitute for experience & risk-taking
Having worked extensively across various sectors including higher education, marketing specialists ought to share their experiences to convince how impromptu marketing decisions can make it big.
One such opportunity was when riots took place in Ukraine two years ago. Some of you may have heard 'Crimea' for the first time, when this event occurred. Damac properties, UAE's top real estate developer, worked hand in hand to promote their 'Safehaven' campaign via the team at UBRIK. This sudden stroke of genius presented Dubai as a lucrative option for 'high net-worth residents' to relocate and invest in. Being the most vibrant city in the region, this would be a second home away from all the chaos. Apart from precise targeting methods, a complete digital experience was created in the local language, alongside 'direct response' marketing content that went on to generate tons of quality leads.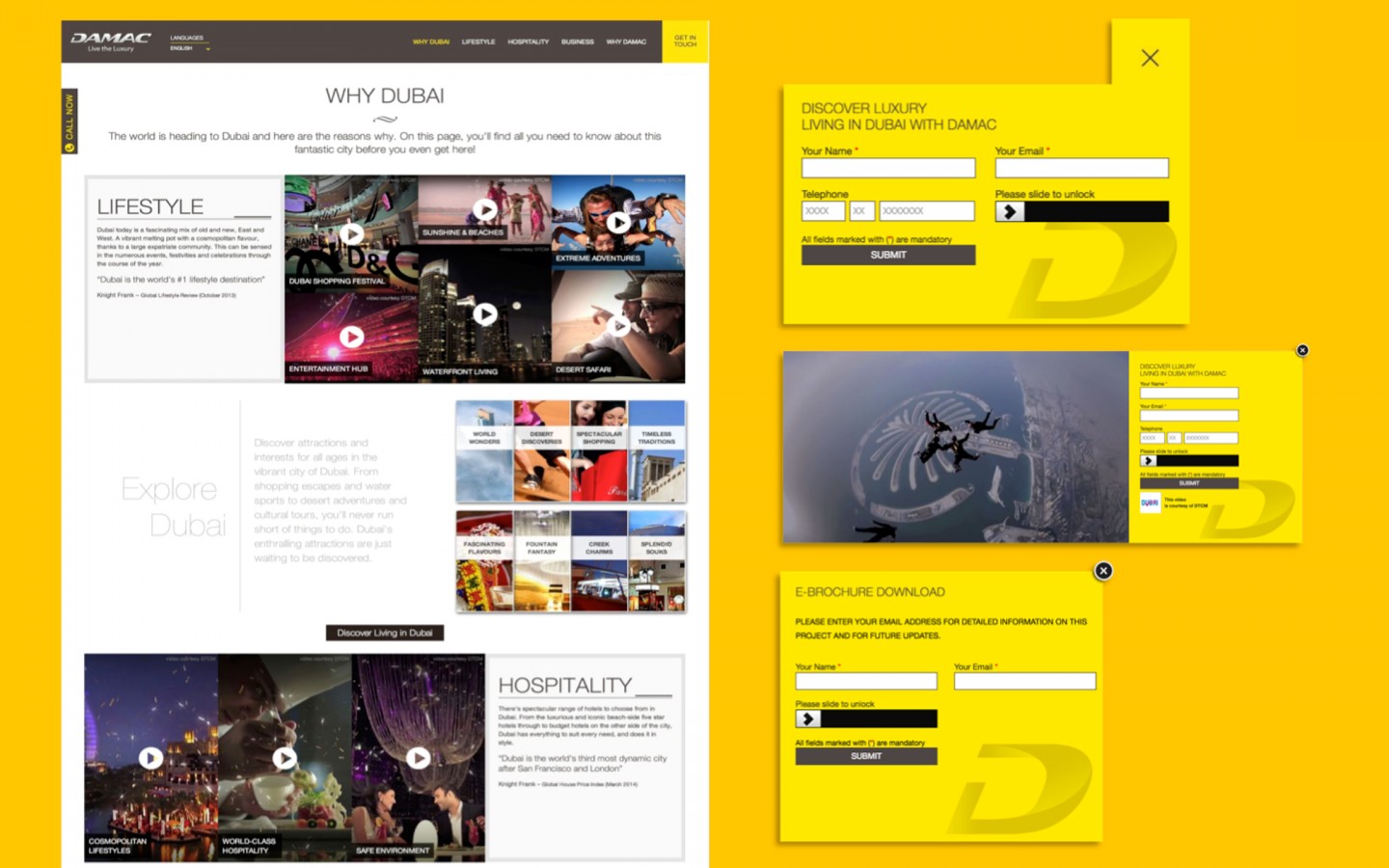 For study purposes, the above is an English version of the microsite created for Damac Properties' Safehaven campaign
One man's loss is another man's gain
Unless everyone keeps assuming that the grass is only greener on 'the other side'…
Current events across the globe brings opportunity for those who keep an eye out, and for those who keep a good deal of reserve marketing budgets.
Donald Trump's Travel Ban Exposes a Gold Mine for Higher Education in the Middle East. Whether the immigration issues pass away or not, this is a definite opportunity for various sectors including medical tourism, technology & higher education to make use of.
There's no denying the huge portion of students who aspire to study in so-called 'western countries'. Keeping the current tide of global events into perspective, we notice very little progression in these societies with some of them going back in time to the era of Martin Luther King and Malcolm X.
As per The Universities and Colleges Admissions Service (UCAS), a UK-based organisation whose main role is to operate the application process for British universities, applications to study at UK universities have fallen by 7 per cent following the nation's Brexit vote.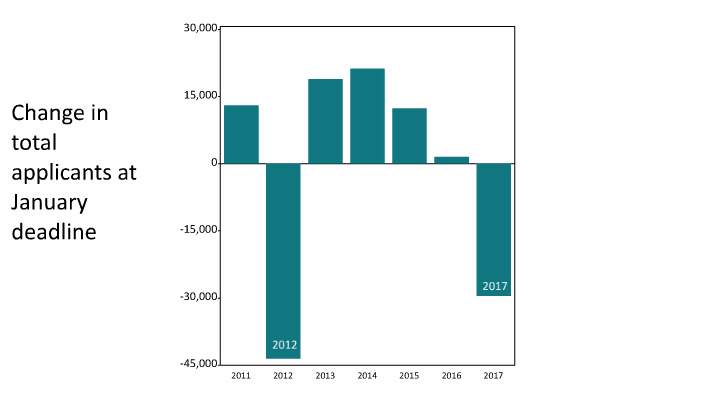 Source: UCAS
Apart from the fact that most prospects seek permanent residency in the long-run, aspiring students and parents require to broaden their vision for similar, if not, better 'future-focused' options. A balanced choice must lie somewhere between their home country and countries that were 'developed' once upon a time. Time to Google.
Students from other Muslim countries are presented with the best of both worlds in the UAE where they are exposed to a thriving economy, a global audience and universities whose staff themselves come from western-educated backgrounds. Not to mention that colleges in the UAE offer a wide range of curriculums, from American to British, Australian, Canadian and others.
Based on the above, it's about time universities took a call to re-align their marketing & admissions efforts beyond the seasonal intakes. Opportunities such as these don't come across that often. So instead of witnessing American universities geo-target their ads to the UAE, universities in the Middle East must begin to leverage their background and upper hand (in Arabic, for example) to influence Generation Z abroad.
While U.S. colleges could lose up to $700 million in revenue due to the immigration fiasco, this is a calling for progressive universities in the Middle East. Some of the world's brightest foreign students now have an opportunity to travel to neutral ground. Simply ask some of the exchange students at Canadian University Dubai and you'll be startled.
"I moved to Canadian University Dubai after attending college in Vancouver and immediately saw parallels in the educational principles and ideologies. The professors are extremely skilled in the field and use their professional experience to relate the theoretical lessons to practical, work-based scenarios.
The curriculum is both interesting and challenging, and encourages us to express ourselves in different ways, which is important for a career in communications. It is also extremely diverse, offering opportunities to explore entrepreneurship, as well as providing internships with established companies in Dubai." – Indira Adambayeva
The circus owner earns more than the performers
Like Duh! Take the example of UAE's 'global village' where seasonal revenue is sought by businesses that set up shop for a few months only. We all realize it's the developers who earn more from admission tickets compared to these stalls, yeah? What else can you predict when there's so many vendors selling the same product all across the pavilion?
Similarly, when we can imagine dozens of universities competing during the admissions season. CPCs spike to astronomical figures bringing in less for more. Thus, we at UBRIK push our clients to activate year-around campaigns with dynamic seasonal messaging, leaving room for flexibility & wider presence. Recommended online channels for such activity would be Google Search, Gmail Sponsored Ads and Remarketing across display and social media.
Such 'year-round' strategies are an intricate component of Inbound Marketing in the global higher-education market. Something that institutions in the Middle East still need to familiarize with, as there are few regional authorized partners that can guide businesses towards consistent results. By developing a meticulous lead nurturing ecosystem, universities can develop an online infrastructure that is bound to earn from organic and paid marketing efforts on a continuous basis.
Setting up an 'Inbound presence' is no rocket science. Although any small-time marketeer can pass certifications and claim themselves to know the methodology, results can only come via experienced sources who nurture universities to imbibe proprietary technology into a successful marriage of marketing and sales.
Can your brand 'break the mindset'?
To understand this, Middle Eastern universities must break-away from their existing online marketing strategy. A car may still have four wheels but the way they're manufactured has completely changed over the decades.
In case you just went digital recently and are boasting about how you've dived straight into the latest trends, think again. If everyone else is doing what you're doing, it's not for you.
Getting the right message over the right channels to the right audience is not difficult, however it does require effort. Remember: we are trying to migrate a person's dream from one destination to another.
Therefore, Middle Eastern brands might need to commence by educating their audiences into a comfort zone before getting the actual message across. Parents must some across online content that indicates that their offspring can get high-salaried jobs elsewhere. Similarly, aspiring students must be made aware of similar environments to west. And what better when establishments in the GCC helps conserve tradition & faith?
Apart from being bothered about Clicks, CTR, Conversions etc., higher-ed marketeers must consider campaigns as an initiative that will shape a persons present and future… unless courses & strengths are not marketed well, how can students and parents stumble upon choices a second consideration?
In literal terms, 'Marketing Content' might not remain 'King' for long. The way things are going right now, it isn't going to be the 'President' either. Rest assured, Inbound Marketing with excellent content is most likely to be 'the Sheikh'.
OK, I get it. What's next?
Thought this post was good? You ain't seen nothing yet.
If you are ready to take your university's marketing to the next level, click on the button below to book a FREE 30-minute consultation call.
We'll help you get clarity on your marketing challenges and give you actionable solutions you can implement immediately.
Click below to get started.
{{cta('994bbc03-444b-4215-9754-70f09b189802′,'justifycenter')}}